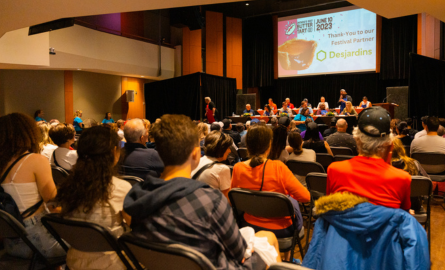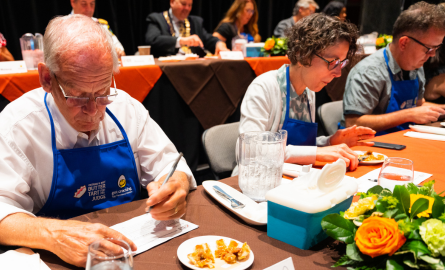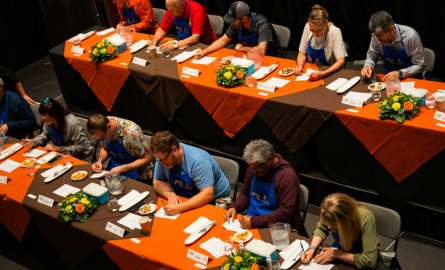 Congratulations to all of our 2023 contest entrants on their incredibly delicious butter tarts!
The defending champ of Ontario's Best Butter Tart Festival for 2023 is
Rosemont General Store
with their phenomenal Classic Butter Tart with House-made Potato Chips. Rosemont General Store had all of the judges talking about their unique and flavourful tart that won by a landslide!
One of our celebrity judges,
Sugith Varughese
, well known for
Kim's Convenience
on CBC-TV and Netflix, as well as
Transplant
on CTV and NBC, stated that the Rosemont General Store's creative butter tart was,
"My personal fave and ended up winning the category and best in show"
.
If you missed the awards presentation, you can check it out on our live-stream
here
.
We look forward to welcoming the reigning champ back for 2024 and we are excited to see who is up for the challenge of competing for the coveted title of Ontario's Best Butter Tart.
2023 Winners
Best in Show
Rosemont General Store - Joanne Chappelle, Rosemont ON, Classic Butter Tart with House-made Potato Chips
Home/Amateur Baker Traditional
1st – Melanie Carrigan, Midland ON, Pecan
2nd – Rachelle Filsinger, Owen Sound ON, Pecan
3rd – Kate Kitchener, New Lowell ON, Raisin
4th – Mike Demelo, Georgetown ON, Pecan

5th – Christine Hodgkinson, Ottawa ON, Raisin Walnut

Professional Baker Traditional
1st – Circles and Squares Bakery, Toronto ON, Maple Pecan
2nd – Tricia's Baked Goods - Tricia Brown, Massey ON, Classic
3rd – Gouter by RA - Rodney Alleguede, Toronto ON, Classic
4th – Tastefully Yours - Heather St. George, Kilworthy ON, Classic
5th – Tart Boss, Jamie Howe, Trenton ON, Classic
Home/Amateur Baker Wild Style
1st - Sharon Rendell, Stratford ON, Double Double Coffee Crisp
2nd - Melanie Carrigan, Midland ON, S'mores
3rd - Mike Demelo, Georgetown ON, Key Lime
4th - Jessie Crowe, Midland ON, Date Almond Crumble
5th - Tanya Labelle, Franktown ON, Banana Caramel Cheesecake
Professional Baker Wild Style
1st – Rosemont General Store - Joanne Chappelle, Rosemont, Classic Butter Tart with House-made Potato Chips
2nd – Circles & Squares Bakery, Toronto, Snickers
3rd – Carla's Cookie Box - Carla Mawyin, Vaughan, White Chocolate Raspberry Truffle
4th – Omi's Sweets and Treats - Omila Tickerman, Toronto , Biscoff
5th – Tart Boss - Jamie Howe, Trenton, Salted Caramel
2022 Winners
Best in Show
Rachelle Filsinger, Owen Sound, Pecan Butter Tart
Professional Traditional
1st – The Maid's Cottage, Newmarket, Pecan Butter Tart
2nd - Rosemont General Store, Toronto, Plain Butter Tart
3rd – Bomb Bish, Port Colborne, Plain Butter Tart
4th – Melting Moments Bakeshop, Westport, Pecan Butter Tart
5th – Cheeky Mama Bakery and Café, Victoria Harbour, Chunky Pecan Butter Tart
Home/Amateur Traditional
1st – Rachelle Filsinger, Owen Sound, Pecan Butter Tart
2nd – Isabelle Nadeau, Shumacher, Plain Butter Tart
3rd – Donna Grant, Kirkfield, Plain Butter Tart
4th – Jessie Crowe, Midland, Coconut Butter Tart
5th – Tom Burnett, Sittsville, Pecan Butter Tart
Professional Wild Style
1st – The Maid's Cottage, Newmarket, White Chocolate Raspberry Cheesecake Butter Tart
2nd – Bake My Day, Paris, Turtles Butter Tart
3rd – Carriage House Bakery, Alliston, Banana Fosters Brule Butter Tart
4th – Pizzelle by Shell, Thornbury, Strawberry Rhubard Frangipane Butter Tart
5th – Cheeky Mama Bakery and Café, Victoria Harbour, Fresh Raspberry Caramel Butter Tart
Home/Amateur Wild Style
1st – Angela Cimino, Richmond Hill, Caramel Popcorn Butter Tart
2nd – Crystal Ferguson, Ramara, Cinnabun Butter Tart
3rd – Lisa Filion, Orono, Cinnamon Swirl Banana Bread Butter Tart
4th – Mike Demelo, Georgetown, Maple Blueberry Butter Tart
5th – Jessie Crowe, Midland, Wild Blueberry Crumble Butter Tart
2021
No festival or contest
2020
No festival or contest
2019 Winners

Best in Show
The Carriage House Bakery, Alliston, Plain Butter Tart
Professional Traditional
1st – The Carriage House Bakery, Alliston, Plain Butter Tart
2nd – Giffen's Country Market, Glen Huron, Plain Butter Tart
3rd – Bitten, Hamilton, Plain Butter Tart
4th – Maid's Cottage, Newmarket
5th – Sugar and Spice Catering, Woodville
Home/Amateur Traditional
1st – Debbie Lloyd, Midland, Raisin Butter Tart
2nd – Jessie Crowe, Midland, Maple Walnut Butter Tart
3rd – Darrell Cober, Barrie, Plain Butter Tart
4th – Donna Grant
5th – Rachelle Filsinger
Professional Wild Style
1st – Doo Doo's Bakery, Bailieboro, Sweet Potato Ginger Strudel Butter Tart
2nd – Baxter's, Toronto, Nanaimo Butter Tart
3rd – The Queen's Tart, Sault Ste. Marie, Nanaimo Butter Tart
4th – Campbell's Country Emporium, Victoria Harbour
5th – Carriage House Bakery, Alliston
Home/Amateur Wild Style
1st – Rachelle Filsinger, Owen Sound, Fruit Nut and Butter Rum Butter Tart
2nd – Donna Grant, Kirkfield, Apple Crumble Butter Tart
3rd – Mike Demelo, Georgetown, Passion Fruit Mango Butter Tart
4th – Jessie Crowe, Midland
5th – Phyllis Adamson
2018 Winners

Best in Show
Doo Doo's Bakery, Bailiboro
​​​​​​​
Professional Traditional
1st – Doo Doo's Bakery, Bailieboro, Plain Butter Tart
2nd – Kawartha Shortbread, Fenelon Falls, Pecan Butter Tart
3rd – Just Like Mom's Restaurant and Bakery, Southampton, Raisin Butter Tart
4th – Crosswinds Restaurant, Mitchell
5th - The Maid's Cottage, Newmarket
Home/Amateur Traditional
1st – Tonya Louks, Raisin Butter Tart
2nd – Donna Grant
3rd – Kelly McBride, Coconut Butter Tart
4th – Mike Demelo
Tied for 5th – Mario Ciuffreda and Crystal Ferguson
Professional Dessert Fusion
1st – Doo Doo's Bakery, Bailieboro, Strawberry Rhubarb Crumble Butter Tart
2nd – Circles and Squares, Toronto, Butter Tart inside a Hello Dolly Butter Tart
3rd – The Bakery, Flesherton, Pecan Brownie Butter Tart
4th – Giffen's Country Market, Breslau
5th – Just Like Mom's Restaurant and Bakery, Southampton
Home Amateur Dessert Fusion
1st – Jessie Crowe, Matrimonial Butter Tart
2nd – Jane Albert, Banana Foster Butter Tart
3rd – Rachel Pendlebury, Baklava Butter Tart
4th - Phyllis Adamson
5th - Angela Cimino
2017 Winners

Best in Show
The Maid's Cottage, Newmarket

Professional Traditional
1st The Maids' Cottage – Pecan
2nd Bitten on Locke – Classic
3rd Wellington Cakes – Classic
Home/Amateur Traditional
1st Jane Albert - Pecan
2nd Mario Ciuffreda – Original
3rd Lindsay Ethridge – Maple Raisin
Professional Dessert Fusion
1st Nana B's Bakery – Maple Rhubarb Apple
2nd North Country Butter Tart Co. – Caramelized Pear
3rd Rural Spoon Cafe – Maple Walnut
Home Amateur Dessert Fusion
1st Judy Lazaro – Apple
2nd Jane Albert – Cranberry
3rd Angela Cimino – Maple Granola
2016 Winners

Best in Show
Doo-Doo's Bakery

Professional Traditional
1st The Maid's Cottage - Pecan
2nd Baxter Kitchens - Classic
3rd Whistle Stop Cafe - Classic
Home/Amateur Traditional
1st Jane Gilbert - Pecan
2nd Jessie Crowe - Raisin
3rd Lindsay Ethridge - Maple Raisin
Professional Dessert Fusion
1st Doo-Doo's Bakery - Cheesecake
2nd Doo-Doo's Bakery - Churn 84
3rd Doo-Doo's Bakery - Rhubarb
Home/Amateur Dessert Fusion
1st Crystal Ferguson - Raspberry Jam
2nd Joey Cardamone - Niagara Ice Wine
3rd Jane Gilbert - Butter Rum Raisin
2015 Winners
Professional
1st Doo-Doo's Bakery
2nd Grandma's Beach Treats
3rd Kenogami's Kitchen
Home/Amateur
1st Hisako Niimi
2nd Jessie Crowe
3rd Anne Mous
2014 Winners
Professional
1st Doo-Doo's Bakery
2nd Ladybug Cafe
3rd Grandma's Beach Treats
Home/Amateur
1st Jessie Crowe
2nd Bernadette Park
3rd Robin Coulter
2013 Winners
1st Nancy Dillen
2nd Ladybug Cafe
3rd Laurie Gaudet
instagram:00000000-0000-0000-0000-000000000000