Application
Thank you for your interest in being a vendor at Canada's original and largest butter tart festival. Vendor applications for for 2024 are now available. Please complete our Vendor Application form.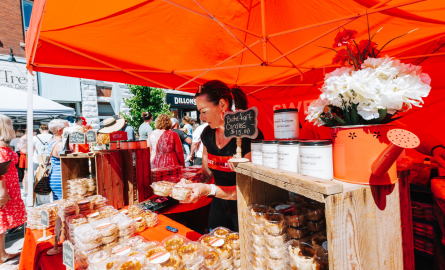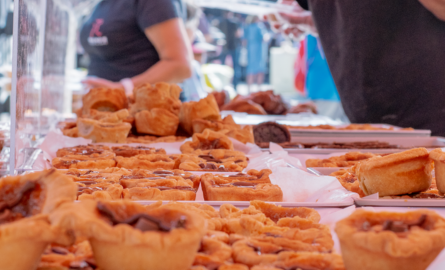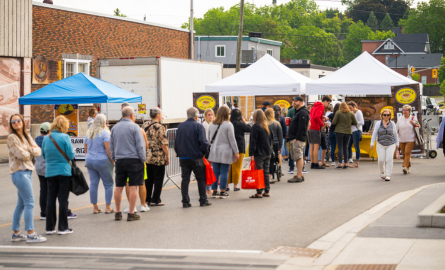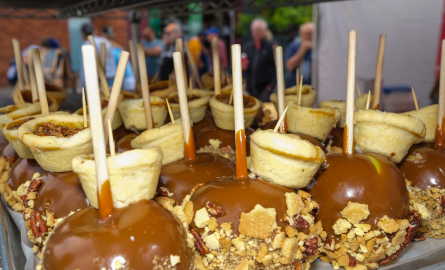 What's Next?
January 19, 2024 Application deadline date. Any applications received after this date will not be accepted.
March 15, 2024 Notification to accepted vendors.
March 22, 2024 Vendor confirmation of participation must be received by the festival. Without confirmation by this date, booth space may be offered to another vendor. Once confirmed, payment must be made in full on or before March 22, 2024 at 4:00pm. There will be no refunds.
April 14, 2024 Deadline for food vendors for the Special Event Application, submitted directly through the Health Unit.
April 26, 2024 Application deadline for Food Vendor Permit. Without this, food vendors may forfeit their opportunity to participate and forfeit all fees paid. Also, deadline for providing proof of insurance.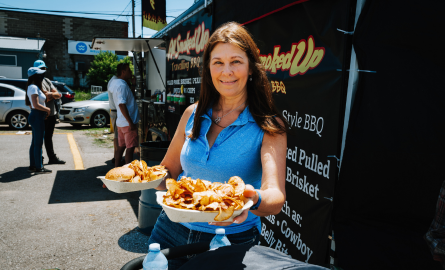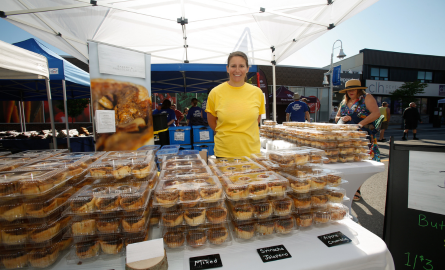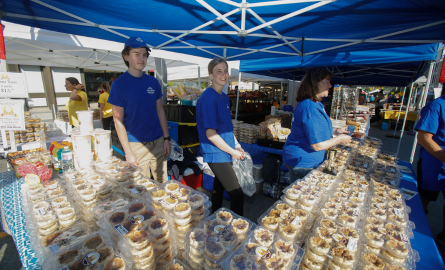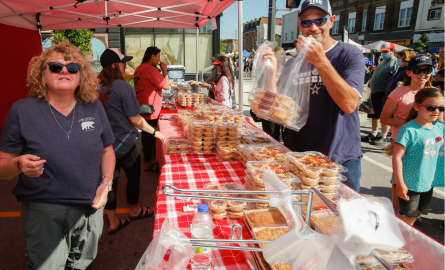 Vendor FAQs
What are the Festival hours
The festival hours are 9 a.m. to 5 p.m. We expect you to stay until the end of the festival.
The festival runs rain or shine (severe weather notwithstanding)
When can we set-up
6 a.m. is the earliest time you can set-up on the street.
You CANNOT drive your vehicle up to your booth space to unload (unlike past years). You will be required to bring your own trolley and trolley your supplies to your booth. Vehicles need to be off King Street by 7:30 a.m. Vehicles remaining on the street after this time present a safety hazard to our visitors, other vendors and our volunteers. Let's keep everyone safe!
Please note that parking spots outside of the road closure on Bayshore Drive have parking fees associated with them, including all parking at the Harbour
Vendors located in Harbourside Park can use the parking spaces along Bayshore Drive for unloading. Note that Bayshore Drive will be closing to vehicular traffic, with the exception of emergency vehicles, between First Street and Midland Avenue in the morning before the festival begins.
Vendors in Harbourside Park should note that the Butter Tart Trot route brings runners/walkers through the park. Please keep the pathways clear and give way to runners to ensure their safety.
Please have your display assembled and ready to conduct business as early as 8 a.m. as we have lots of early birds coming.
If you are bringing a pop-up shelter, remember to bring weights ie. sandbags/water jugs/kitty litter-filled buckets, etc. to secure your tent legs, protecting your tent from wind. This includes vendors in the parks as we are trying to avoid damaging the underground irrigation system.
Please stay within the noted boundaries of your booth. This means no signage, flags, tables or product outside of your designated spot. Please do not try to take someone else's spot.
When setting up in the morning, please place your cardboard and garbage in the bins on Bay Street, Dominion Avenue, Hugel Avenue and Elizabeth Street, and not in the garbage receptacles on King Street. The bins will be on the west side of King Street. Your cooperation in this is greatly appreciated and any vendor who does not adhere may lose their opportunity to participate in future years.
When is Tear Down
Our festival runs until 5 p.m. We would like to underscore that no vendor may begin packing up or may leave until the end of the day. We take this rule very seriously. It is important that you are prepared for a full day of sales and promotion.
Tear down is from 5 to 7 p.m. King Street and surrounding side streets will re-open for vehicle traffic at 7 p.m. so it is important that your booth and display are removed by this time.
Tear down is from 5 to 7 p.m. King Street and surrounding side streets will re-open for vehicle traffic at 7 p.m. so it is important that your booth and display are removed by this time.
Will there be First Aid and Security on site
First Aid stations are located at King and Yonge and at King and Bayshore.
There will be a security company on-site and they are the designate lost children/missing persons booth and general lost and found. They will be located at the corner of King and Elizabeth, outside the Midland Cultural Centre.
Festival Day Vendor Checklist
Shelter/Tent and weights
Chairs, stress mats (to alleviate discomfort from standing for long periods of time)
Trolley to carry your supplies to your location (you will NOT be able to park at your booth as in past years)
Cash box/cash register/money belt
Cash float (with plenty of $5's, $2's, $1's, etc.)
Table, display, storage
Signs displaying business name and pricing
Packaging materials, bags for purchases
Refreshments and snacks for yourself/your staff, including water (stay hydrated!)
Carts/dollies for moving product from vehicle to booth
Business cards, postcards, promotional materials
Portable power source (if necessary and the quieter the better)
Garbage bags for end-of-day clean-up
Sunscreen and dress for the weather
BOTH permits from the health unit and the Town of Midland (if applicable)
instagram:00000000-0000-0000-0000-000000000000