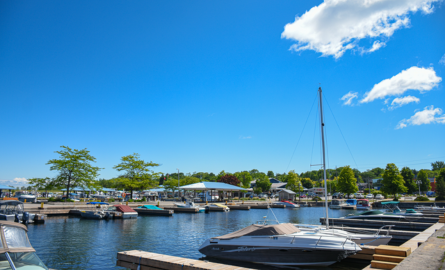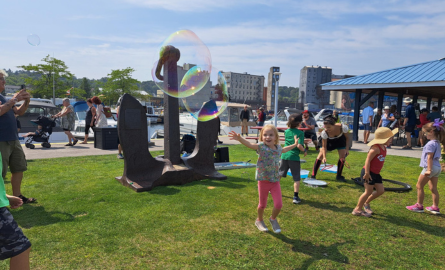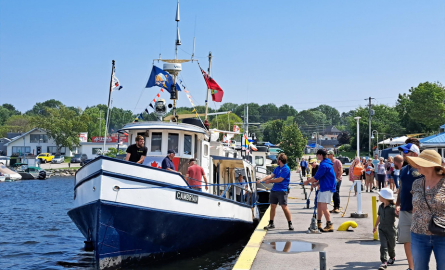 Midland Harbour Office is open for the season.
Situated at the southern end of Georgian Bay, Midland Harbour is a picturesq​​ue natural attraction that tourists and boaters from around the world have been enjoying for many years. There's no place like Midland Harbour; it is truly a must-see.
Midland offers breathtaking waterfront views. Visitors enjoy historical sites, art galleries and shopping in our unique downtown core. Visit us at Midland Harbour, with local restaurants, parks, trails, unique shops, small businesses and more, all within walking distance.
The Midland Harbour is a member of the Ontario Marine Operators Association (OMOA) and is Clean Marine Certified.
Midland Harbour Rules and Regulations
Transient Slip Rental Agreement
Hours of Operation (September 1 - October 31, 2023)
Sunday - Saturday: 8:00am - 5:00pm
Haul out deadline is October 24, 2023. All services for seasonal boats will end on this date.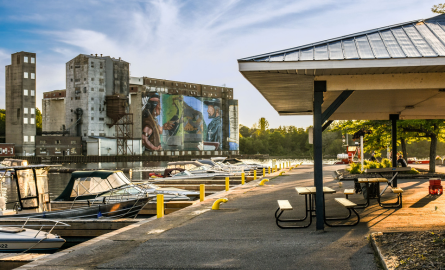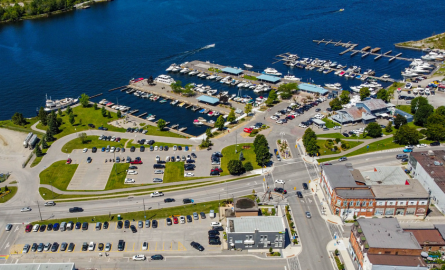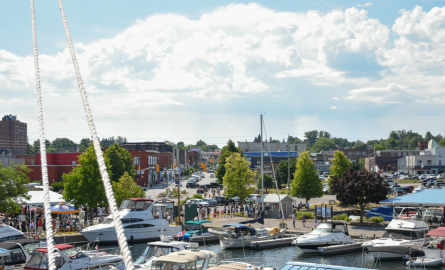 What to expect during your stay at the Midland Harbour ...
| VHF Monitor Channel 68 | Depth of water at Slips: 14 - 25' |
| --- | --- |
| Seasonal Dockage Slips: Available | Power at Dock: Available - 30 amps |
| Transient Dockage Slips: Available | Water: Available |
| Pump Out: Nearby | Washroom/Shower Facilities: Yes |
| Gas: Nearby | Laundry Facilities: Yes |
| Marina Store/Supplies: Nearby | Playground: Nearby |
| Service Mechanic: Nearby | Lakefront Beach: Nearby |
| Dockside Dining: Nearby | LCBO /Beer Store |
| Snack Bar: Nearby | ATM/Interac: Nearby |
| Fast Food/Take Out: Nearby | Ice: Available |
| Grocery Store: Nearby | Pay Phone: Available |
| WiFi: Available | |
Pets
Pets are permitted; however, they must be kept on a leash at all times and may not be left unattended at any time. Excessive barking will not be tolerated. Dogs must not be tied on the docks in any way that may hinder or impede the safety of the walkways. It is the pet owner's responsibility to "stoop and scoop". Pet owners may be refused the privilege of bringing their pets to the Marina if they fail to comply with these rules.
Washrooms and Showers
Washrooms and Showers are located at the Administration Office and are open to the public from 8:00 am to 6:30 pm and are open seven (7) days a week. Showers are accessible.
Laundry
Laundry facilities are available to transient and seasonal boaters 24 hours a day. They are located at the Administration Office. The machines are coin operated.
Quiet Time
In order to respect the close proximity of neighbours, an 11:00 pm to 7:00 am noise curfew has been implemented. Music and loud voices must be turned to a low level as to not bother any sleeping boaters. Please exercise good judgement and consideration at all times.
Garbage and Recycling
Garbage and Recycling bins are available in the designated area of the facility; there must be no spillage of garbage, sewage, fuels, oils or other pollutants on or about the Marina property or waterways. Please contact the Midland Marina Administration Office for any disposal inquiries.
Video Surveillance
Video surveillance cameras have been installed throughout the marina/harbour area to ensure the safety and security of all boaters, visitors, guests and staff.
Emergencies and Emergency Phone Numbers
For emergencies, fire extinguishers are available throughout the Marina facility. Please report all fire extinguisher usage to the Marina Office Personnel.
Emergency assistance 911
Non emergency assistance 1-888-310-1122
Visitor Parking
Fee for visitor parking is $1.50 per hour using our Pay and Display machines. See link for How to Pay for Parking.
Seniors 65+ can park at the Harbour for free by registering at the Customer Experience Office located at the Midland Municipal Office. What you need to know:
Free to Midland residents only, 65+
Photo ID is required showing age and Midland residency
Vehicle registration can only be completed at Town of Midland Municipal Office. Proof of Vehicle Ownership and valid Plate required
Plate will be entered into our parking system (no passes required)
Boat Launch Parking Map