Midland has a vibrant history with features and properties that reflect our natural and cultural heritage. Some of these properties are designated under the Ontario Heritage Act, and many are identified in the Town's Heritage Register.
Designated Heritage Properties
Under Section 29 in Part IV of the Ontario Heritage Act (OHA), municipalities may pass by-laws to formally designate properties of cultural heritage value or interest. Formal designation allows the municipality to acknowledge a property's heritage value and its significance to the identity of the community. Formally designating a property under the OHA also helps to ensure the conservation of the identified heritage elements for the benefit of present and future generations. Below is a list of the designated properties in the Town of Midland.
310 Fifth Street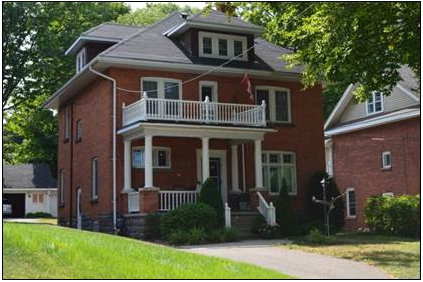 310 Fifth Street is believed to have been built between 1905 and 1914. The residence is a representative example of Edwardian Classicism, and more specifically the Foursquare style. Fifth Street is well-regarded in the Town as having a distinctive historic character due to the large number of Edwardian homes set on well-kept properties with mature trees. 310 Fifth Street is an excellent example of the Foursquare design within the Edwardian architectural period, and it has been maintained to a very high standard with limited exterior alterations. 310 Fifth Street was designated a heritage building in 2016.
353 Fuller Avenue (Drummond Wall)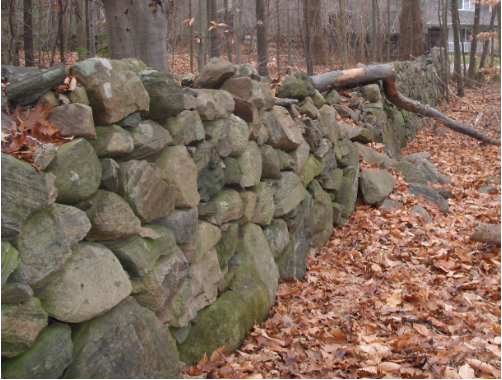 This wall is all that remains from "Drummond House", also known as the Georgian Lodge, which was built in the 1890's. The building was destroyed by a fire in 1980 and the wall was designated as a Heritage Structure in 2010.
17007 Highway 12 (William Wilson Cemetery)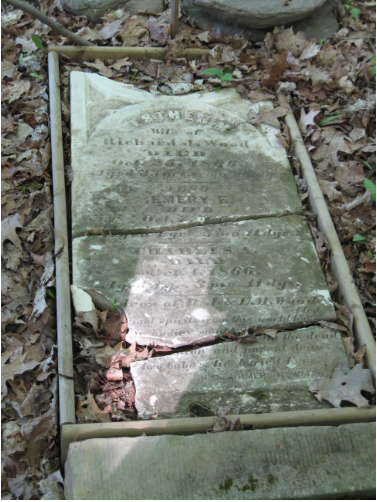 This property is the site of a rural "pioneer" cemetery, in which many of the area's earliest settlers are buried. Burials ended in 1907 and only one headstone remains visible in this location. The property was designated as a Heritage Site in 2009.
589 Hugel Avenue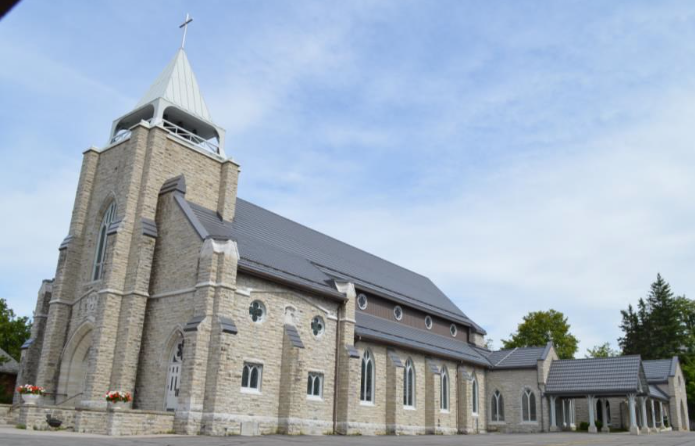 The construction of St. Margaret's Catholic Church was completed in 1883, solidifying Midland as its own parish. By 1912, the original church had become too small and the decision to construct a new building on the property was made. The new, larger building was completed and dedicated by Archbishop Neil McNeil in 1914. In 1922, the congregation received eight bells, all of which had been cast in France. Each bell was engraved with the names of, and were dedicated to, all of the local men killed during World War I. The church was designated as a Heritage Landmark on March 23, 2015.
320 King Street (Midland Public Library)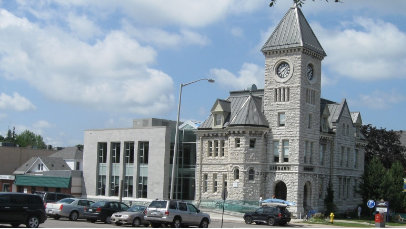 This building was built in 1914 to serve as the town post office. It was converted to the Midland Public Library in 1976, and was designated as a Heritage Building in 1981.
422 King Street (Letherby House)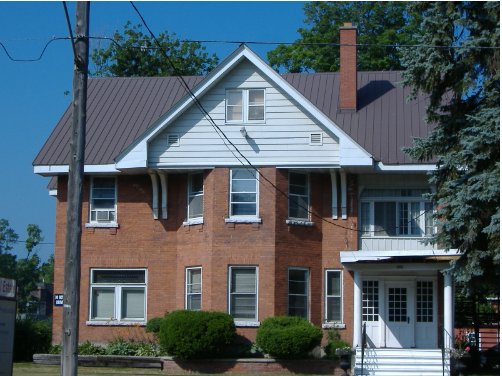 The Letherby Home is strongly linked to Midland's lumber mill era as being one of four adjacent homes belonging to some of Midland's foremost lumber barons. The property was purchased by Edwin Letherby in 1903 and was sold upon his death in 1953. Mr. Letherby was a prominent lumberman including being president of both the Letherby-Terry-Nicholson Lumber Company and the Letherby and Sons Lumber Mill. Mr. Letherby was also Mayor of Midland from 1908-1909 and 1916-1917, served several terms as a Town Councillor and was a lifelong supporter of the YMCA and St. Andrew's Hospital. The property was designated as a Heritage Building in 2014.
687 King Street (Heritage Animal Hospital)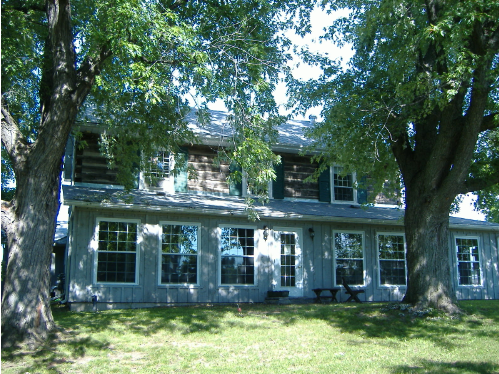 This building was built for use as a home in 1900, constructed of board and batten, clap board, and horizontal finished log. It is now used as an animal hospital and was designated as a Heritage Building in 1992.
251 Queen Street (Hillside Holme)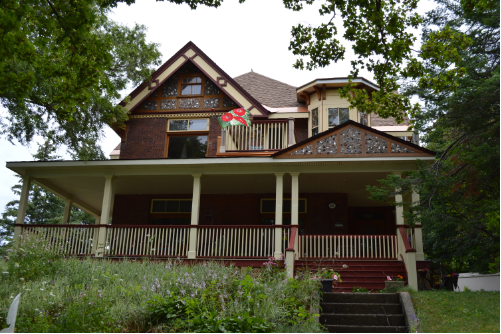 This home was is believed to have been built in 1875 and was the home of Thomas Chew, a prominent industrial leader in the Town of Midland. It was designated as a heritage building in 2013.
Heritage Inventory and Register
Under Section 27(1) of the Ontario Heritage Act (OHA), the Clerk of the Town is required to keep a register of properties of cultural heritage value or interest within the Town.
More Information About the Inventory and Register
The Heritage Inventory and Register includes those buildings and structures on the Walking Tour list, Captain's Houses list, and a number of other buildings and structures identified by current and past staff and Committees as having cultural heritage value or interest within the Town.
The register must include all properties that are designated under the OHA either locally or provincially and the register must include a legal description of the lands, name and address of current owner, a statement of the cultural heritage value or interest of the property, and a description of the heritage attributes of the property. The OHA also permits property/buildings that are not formally designated to be 'listed' on the Heritage Register where the municipality believes that there is a cultural heritage value or interest in the property/building.
The Heritage Inventory and Register is an important and significant part of the Town's overall heritage resource program. The Inventory and Register meets the Town's obligations and requirements under the Ontario Heritage Act and also establishes an important tool in the identification, promotion and protection of these significant heritage properties and buildings.
The Heritage Inventory and Register should be considered a living document that will continue to be added to and improved upon over time as additional historical information is found and incorporated regarding the existing designated and listed properties and as new buildings and resources are considered by the Committee for listing and designation.
Interactive Map
Map feature to come.
Walking Tours and Brochures
Various brochures have been developed over the years to promote our local heritage:
Walking Tour of Downtown Midland
Heritage Programs
There are a number of Heritage related programs offered by the Town. Each program is described in further detail below.
Century Home Plaque Program
What is the Century Home Plaque Program?
This program is intended to recognize homes in Midland that are more than a century old and which add to the unique character of the built heritage of the Town. The program provides an opportunity for homeowners to apply for a custom-made historical marker commemorating the longevity of their homes that doubles as an address marker.
Do you live in a century home?​
Apply for a Century Home Plaque to celebrate your home's heritage! Fill out the Century Home Plaque Program Application​ and submit it to the Town's Planning Department.
How much is a plaque?
The fee for a plaque is $150.00.
This fee covers the research, fabrication, and shipment of the plaque to your home.​
How long does it take to receive my plaque after submitting an application?
​It will take between 2 and 4 weeks to receive your plaque following confirmation of eligibility for the program.
What is the plaque made of? What size is it?
The plaques are made of heavy gauge steel with a thick porcelain enamel coating, painted black with white lettering and numbering. The decorative frames are made from solid die-cast aluminum finished with a powder coating process to prevent corrosion. Plaques measure 16.5 inches by 10 inches.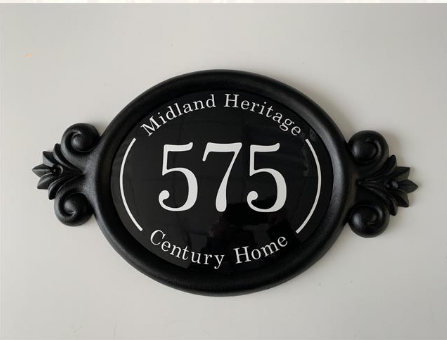 Can I see a sample of the plaque prior to submitting an application?
Yes, we have a sample plaque in our Town Office. Please contact planning@midland.ca​ to arrange a date and time to come into the Office to view the sample plaque.
Does the plaque come with hardware to affix the plaque to my home?
Each plaque has pre-drilled holes and comes with the proper​ hardware to affix the plaque to your home.
Christmas Home Tour
The Christmas Home Tour is an annual event organized by the Midland Heritage Committee in December in order to showcase Midland's beautiful heritage homes and to raise money for other heritage projects.
The Christmas Home Tour is currently suspended and we expect the program to be running again in 2023.
Doors Open Ontario
Doors Open is an annual event to celebrate heritage sites both locally and across Ontario by providing people the opportunity to tour heritage buildings for free!
Check back for more information about Midland's future participation. You can find the list of participating properties at the Doors Open Ontario website.
Heritage Awards
Each February, the Town of Midland participates in the Ontario Heritage Trust's province-wide celebration of our past, known as Heritage Week. The Town of Midland uses this week as a vehicle to stimulate awareness of heritage resources and heritage-related issues within the Community. It is during this week that the Town of Midland presents the Heritage Merit Awards and Heritage Appreciation Awards. You can view the Heritage Merit Awards and Heritage Appreciation Award Fact Sheet for more information.
Past winners of the awards can be viewed through the links below:
Heritage Appreciation Award Recipients
Heritage Tax Relief Program
Council approved the Heritage Tax Relief Program through passage of By-law 2014-50 at their Regular Meeting on August 25, 2014. This By-law came into effect on January 1, 2015. Following suit with Midland's program, Council of the Corporation of the County of Simcoe also adopted a Heritage Tax Refund Program on August 11, 2015. You can view the Heritage Property Tax Relief Program Information Sheet for more information.
The program provides tax relief to properties that have been Designated by the Town through the passage of a by-law. More information about the program can be found within By-law 2014-50. The Town is very excited to implement this Program as we recognize the important role that Heritage buildings play in the character and identify of our Town. We further recognize that normal maintenance and restoration of Heritage buildings requires more intensive care and custom work at a somewhat higher cost than that of newer buildings.
Tax Relief Program Application
Other Heritage Related Materials and Websites
Huronia Museum and Huron Ouendat Village